The Disney Cruise Line vessels are modern marvels. They offer all of the amenities you would expect of a luxury ocean liner, but they also have a touch of the past. As the old adage goes (and I paraphrase), you can't get to where you're going unless you know where you've been.
Let's take a look at some of the art on the Disney Dream.
Art Aboard
Disney pay tribute to its history, and has adorned all of their ships with beautiful concept art and storyboard drawings from some of their earliest movies. There are also some pictures of Walt Disney himself. Most of the artwork appears in public places like stairwells, near elevators, and in the corridors of the ship.
Some artwork comes to life as if you linger in front of the piece.  The above photos of Walt become animated as shown in the videos below:
Hawaiian Holiday
Besides full-length feature films, Disney also created many short films, or shorts. They were usually only a few minutes long and were quite dramatic and entertaining.
Hawaiian Holiday was created in 1937 and starred Mickey Mouse, Minnie Mouse, Pluto, Donald Duck, and Goofy, who later became known as the Fab Five. At the time, Hawaii had not gained state status, and was just a territory of the United States, but it was famous for being a vacation destination.
In this film, the Fab Five vacation in Hawaii. Minnie takes hula dancing lessons, Mickey plays a slide guitar, Donald picks a ukulele, Pluto chases ocean waves, and Goofy tries out surfing.
The drama comes when a wave starts to run back at Goofy who hits his head on a rock and gets stuck in the sand. Mickey then has trouble with his guitar, and Donald and Minnie switch places with hilarious consequences resulting in Donald catching his grass skirt on fire. The gags ensue, and they all experience some misfortune. In the end, they all enjoy the vacation.
Pinocchio
Pinocchio (1939) retells the age-old story of an Italian wooden toy carver who longs to have a child. He carves Pinocchio and wishes that he'd come to life. When he actually does, Pinocchio must learn how to be a real boy with a little help from his conscience, a cricket named Jiminy Cricket.
Fantasia
Fantasia is unlike any other full-length animated feature produced by Walt Disney Productions. Instead of one integral story, it consisted of eight segments set to classical music.
Film critics loved the movie, but WWII cut off distribution to European markets. That combined with high production costs and the expense of leasing theaters with or installing the proper equipment caused the film to suffer in profit. Nonetheless, Fantasia is the 22nd highest grossing film of all time in the US when adjusting for inflation.
Fantasia ranks fifth on the American Film Institute's list of top ten animated films.
Dumbo
Dumbo (1941) was Disney's fourth animated feature film and was created to make up for the financial loses of Fantasia.
The main character is an elephant named Jumbo Jr., but he's earned the unfortunate nickname of "Dumbo" because he wasn't considered very smart. He had very large ears, so the other circus animals thought he looked funny. However, these ears had a special function; they could help him fly!
Bambi
Bambi is a heartwarming tale about a young buck living in the woods. His father is killed by hunters, and later in his life, his mother suffers the same fate. He has some good friends though including Thumper, a rabbit, Flower, a skunk, and Faline, a doe who later becomes Bambi's mate.
Bambi won many awards at the time, and the American Film Institute also rated his number three in the top ten animated movies of all time. It was also added to the National Film Registry of the Library of Congress.
Peter Pan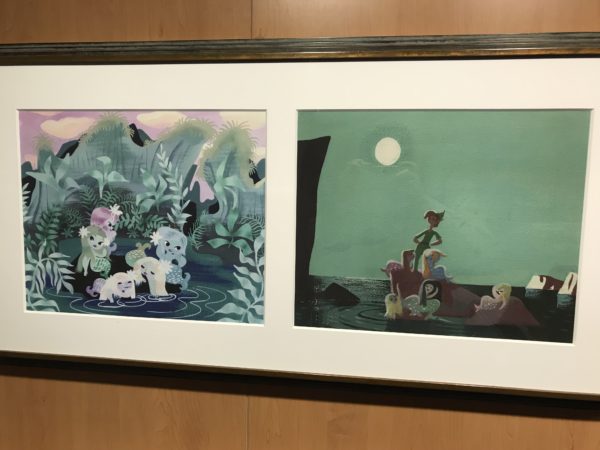 In 1953, Disney took on Peter Pan, which is based on a character from a stage show created by Scottish novelist and playwright J.M. Barrie. Peter Pan is a loveable young fellow who refuses to grow up, and he shows his friends, the Darling children, that being a child can be pretty exciting. They head to Neverland where they encounter fairies, mermaids, and pirates.
The Vista Gallery
The art pictured above is scattered throughout the public areas of the ship, but the Vista Gallery, located mid-ship is a special place where you can find a concentration of beautiful Disney artwork, some of which is for sale. Prices range from an affordable $30 for a simple poster to hundreds or thousands of dollars for limited edition or one-of-a-kind pieces.
The artwork here changes frequently, but here are some things I saw during my trip.
Disney art: Do you enjoy seeing, or collecting, art from Disney films?