Who else likes free stuff? You too? Good!
Yes, I like free stuff. Free stuff is even better when you pair it with something that is normally expensive, namely a Walt Disney World vacation.
While you might be used to spending plenty during your Disney vacation, you might also be surprised at how many different things you can get for free at Disney World. These aren't items that cost a fortune, but they are fun.
Note that most of these items require park admission, so technically you do have to spend some money to get something free. Still, this is good stuff.
Let's take a look at four things you can get for free at Walt Disney World:
1 – Free Game Cards
Sorcerers of the Magic Kingdom is a very popular game that takes place inside the Magic Kingdom (where else would it take place?). Join up with Merlin to battle the forces of evil that are trying to take over the most popular theme park in world. You sign up for the game either on Main Street USA at the Fire House or in Liberty Square near the Ye Olde Christmas Shoppe. Show the friendly Cast Member your admission ticket and they will give you a free starter pack of cards that work with the game. The cards feature different Disney characters and are a fun keepsake even if you don't plan to play the game at all. Each person who has entered the park can get a free set of cards each day.
2 – Free Soda
When it's hot outside, or if you are just looking for a new experience, stop by Club Cool in the Future World section of Epcot. You can sample sodas from all of the world, including drinks sold by Coca-Cola in Japan, Zimbabwe, and Peru. You can drink as much as you like, but you have to do it using one little sampling cup at a time.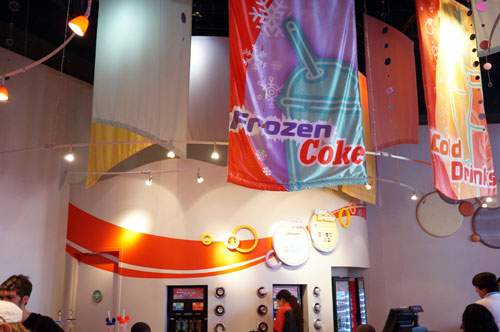 3 – Free Buttons
Is it your birthday? Your anniversary? Your graduation? Disney World is a great place to celebrate all kinds of events in your life. If you are celebrating during your trip, be sure to stop by the Guest Relations office at the park you first visit on your trip. Ask for a free "Celebrate" button. The Cast Member will put your name on it. Wear it proudly wherever you go. You aren't guaranteed anything beyond the button, but you may find plenty of people wishing you well, and sometimes Cast Members will do a little something extra for you, especially at sit-down meals.
4 – Free Chocolate
What could be better than free chocolate? If you stop by the Ghirardelli chocolate shop, next to the Ghirardelli Soda Fountain, in Disney Springs, you get a free chocolate square. It's high quality and delicious, and it will definitely entice you into buying more in the store.
Do you get the free things at Disney World?  What is your favorite?